This Korean style fried chicken recipe was my first Korean dish from this fantastic rich cuisine. A couple of weeks ago, when I was working and had no time to cook that day, my friend and flatmate Lara Roenspieß (Follow Her On IG Here) invited me to try this amazing Korean style fried chicken. Of course, before this, I never ate anything from Korean cuisine yet. So, it was an excellent opportunity to enter this rich kitchen!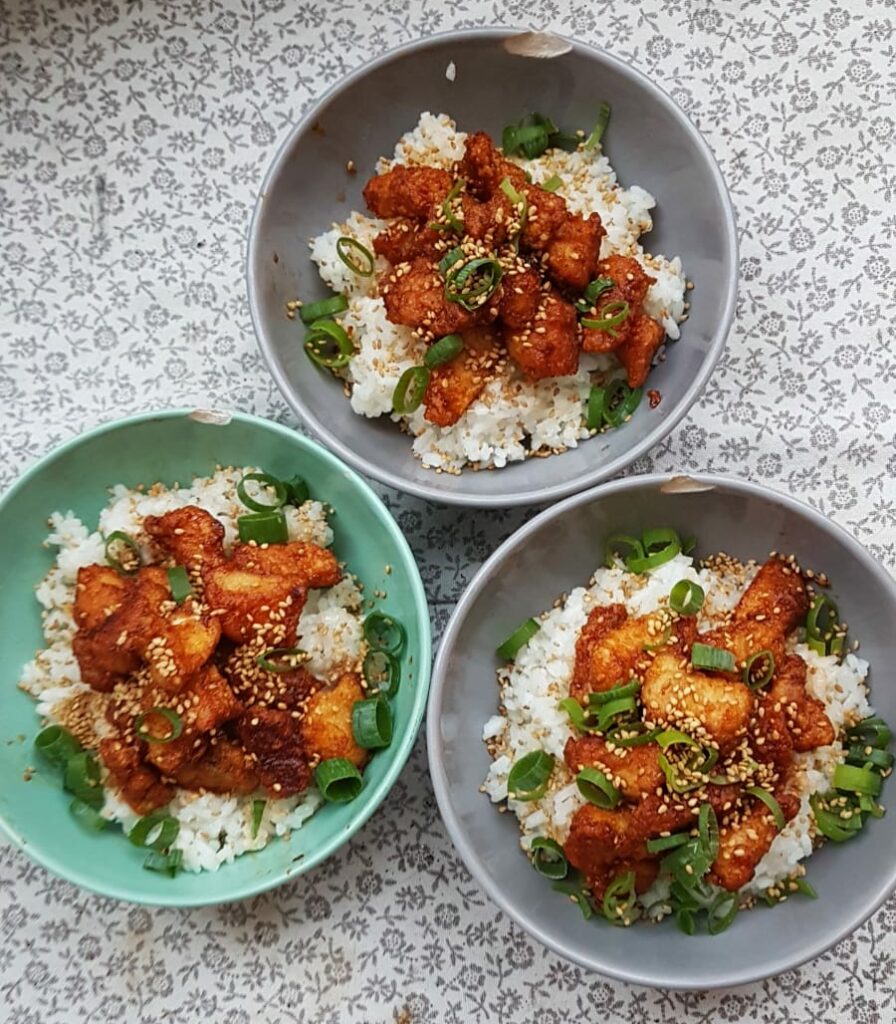 Lara took her time preparing this incredible dish with her "Delicious" tweaks. True, it was a bit spicy but amazingly savory! She is a great chef!
This Spicy Korean style fried chicken recipe, also known as Yangnyeom Dak, became very famous worldwide after introducing it in 2006. Cecilia Hae-Jin Lee is a Korean American writer, photographer, artist, and chef. He is the author of the book "Quick and Easy Korean Cooking," stated that fried chicken became famous in Korea when fast-food restaurants opened there after the war.
Nowadays, the Korean style fried chicken recipe became a popular dish among people who desired a new mouthwatering, delicious dish that is different. So, without any further delay, let's begin with this remarkable Korean style fried chicken recipe!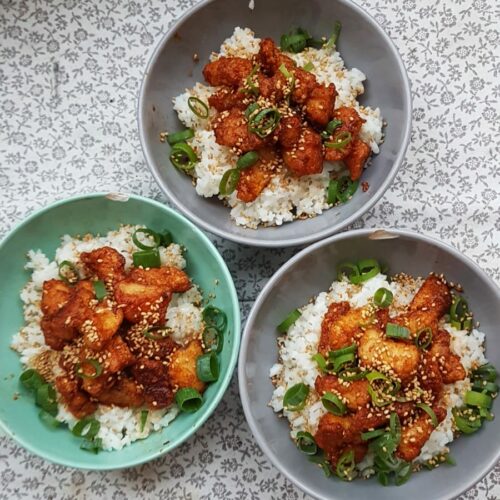 A Heartwarming Korean Style Fried Chicken Recipe With Personal Tweaks
This Korean style fried chicken recipe is a heartwarming dinner dish in a cold fall night with your loved ones.
Ingredients  
300

g

Rice (2 cups of rice)

Make sure to rinse and clean it before cooking.

250

g

Chicken

It is preferable to add boneless chicken such as chicken breast. You can around 4 boneless, skinless chicken thighs.

½

Egg

Beaten Or whisk an egg and take 1/2 the amount or 2 Tbsp.

¼

cup

Corn Startch

½

tsp

salt

½

tsp

White Pepper

½

tsp

Garlic Powder

4

tsp

Sunflower Oil

You can add more or less as it is according to your taste. Alternative (Any heat resistent oil).
For The Sauce
3

tsp

Butter

Alternative (Plant based margarina).

3

tsp

Sesame Oil

1

tsp

Minced Garlic

1 ½

tsp

Brown Sugar

2

tsp

Maple Syrup

Alternative (Honey).

1 ½

tsp

Soy Sauce

7

tsp

Sriracha Sauce

Alternative 3 Tbsp Gojuchang (Korean chili paste).
For The Serving
A handful chopped spring onion

2

tbsp

Sesame Seeds

Roasted.
Instructions 
Preparation Instructions
Prepare the rice by rinsing it. Then cook it according to your taste. Then set aside.

Cut the chickens into bite-size pieces.

In a large bowl, mix the chicken bites with the beaten eggs.

In a medium-size bowl, combine the corn starch with salt, white pepper, and garlic powder.

Make sure to cover every piece of chicken with the corn starch mixture.
Main Instructions
Pour the sunflower oil into a large, heavy pot to a depth of 1 1/2 inches. Heat to 350 degrees. Then, fry the chicken in the hot oil thoroughly until its golden brown crisp.

In the meantime, put together the other ingredients into another pan.

Begin heating the pan with the sauce ingredients on medium heat and let all the ingredients come together. (don't let the sauce cook for too long for the soy sauce).

As soon as the chicken is ready and golden brown in color and the other pan's mixture is ready, move the chicken pieces into the other pan and let it simmer for a while.
Serving Instructions
Now, put the rice into a bowl, then scoop the chicken on top and drizzle all the remaining sauce over it.

Finish it off by adding the chopped green onions and the roasted sesame seeds on top. You can add anything else that suits your taste!

Serve yourself and enjoy it!
Notes
Make sure the chicken is fried thoroughly before transferring it into the sauce.
Don't overcook the sauce as the soy sauce will burn, and the taste will be bitter.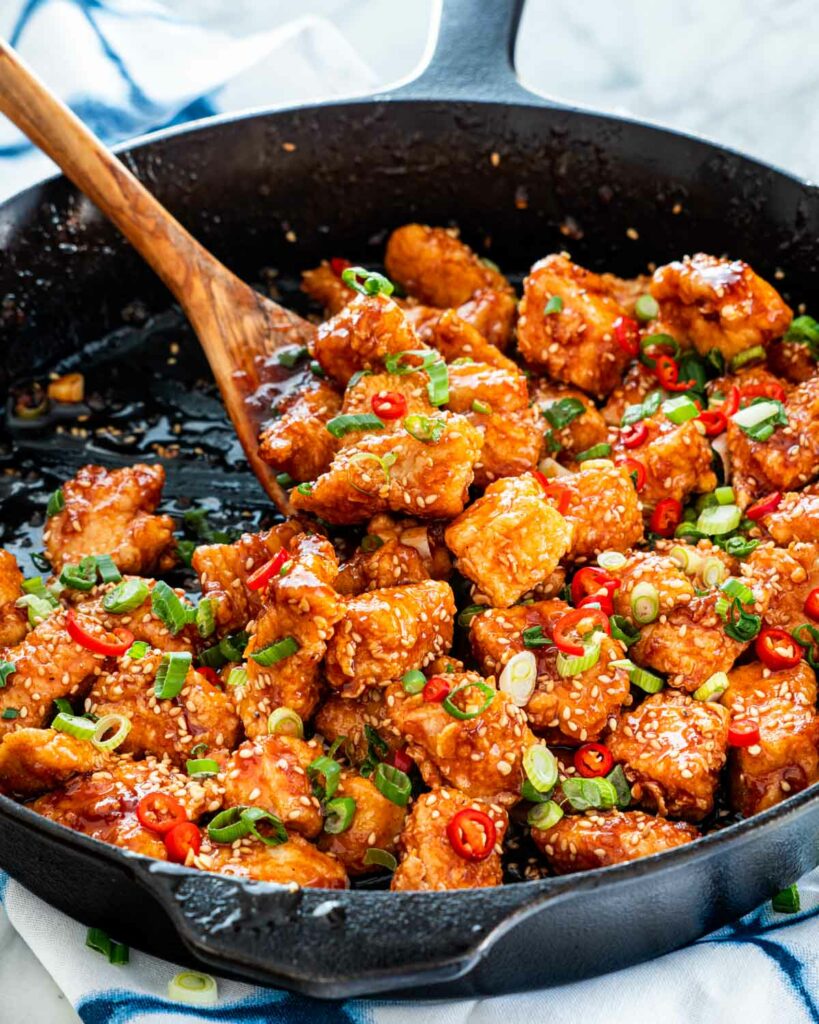 The History Of Korean Fried Chicken
This plain or sweet sauce, crispy, crunchy, and covered with spicy sauce Korean fried chicken, is the best dish with some refreshing, cold drink.
Korean cuisine is loved by many people worldwide. Korean Fried Chicken (My favorite KFC) is one dish that has continuously been a famous dish that shines in Korea's origins.
Like many other foods such as ramen and spam musubi, the conflict played a considerable role in shaping Korean fried chicken. The idea of fried chicken was founded when the US army was placed in the late 1940s and the early 50s in Korea (during the Korean War). 
US troops assigned in Korea celebrated Thanksgiving day with chicken instead of turkey as it was the only option they had. They settled to fry it and distribute this food with their Korean friends who never ate fried chicken before. The Koreans who ate the food loved it straight away. In fact, Koreans traditionally had chicken boiled or steamed and regularly in broths or soups, so fried chicken was a unique idea.
However, the fried chicken didn't become famous then until decades later. Following the Korean conflict, it affected South Korea to be bankrupt; many Koreans rarely had the opportunity to have chicken on their table. In fact, South Korean has continued to be one of the world's most impoverished nations for over a decade.
It was further so unfortunate that it accepted support from various African countries. Throughout the 1960s, on payday, workers returned home with rotisserie chicken in a yellow bag to eat with their children, known as "the yellow-bag chicken," which was a luxury to have rarely.
Fried Chicken's reputation was expected when 2 factors were fulfilled in the early 1970s. It was both cheap, readily available cooking oil, and inexpensive chicken. One essential factor was also that Korea's economics had been quickly rising since the 1960s.
Between 1960-1980, western-style fried chicken restaurants got more and more widespread in Korea's public areas. And the first Korean fried chicken franchise, which was inspired by the fried chicken in the US, was founded in 1977, "Lim's chicken."
Lim's founder traveled to the US in 1975 and saw how KFC (Kentucky Fried Chicken) sold the fried chicken in pieces. And that inspired Lim's founder to return to Korea and try fried chicken by selling a six-piece pack and making Lim's chicken the first fried chicken franchise in Korea.
Years passed and many business owners began their own franchises, which increased the competition, and that lead to more new experiments with various ingredients and flavorings to make their Korean fried chicken different. In 1982, Yang Hee-Kwong, who founded Pelicana Chicken Daejeon, marinated the fried chicken in a spicy and sweet sauce to make it more comfortable for his customers to chew on crisp coats the fried chicken. It is also known as (Yangnyeom-chikin), since then it became trendy and is a more common way to experience Korean fried chicken.
By the 90s, fried chicken became remarkably accessible in Korea when every family living in Korea's residence complexes could order it to be delivered to them. Unlike the 60s and 70s, when korean fried chicken was a meal bought for special events; now, it is especially common food that anyone could manage to have for a meal or snack.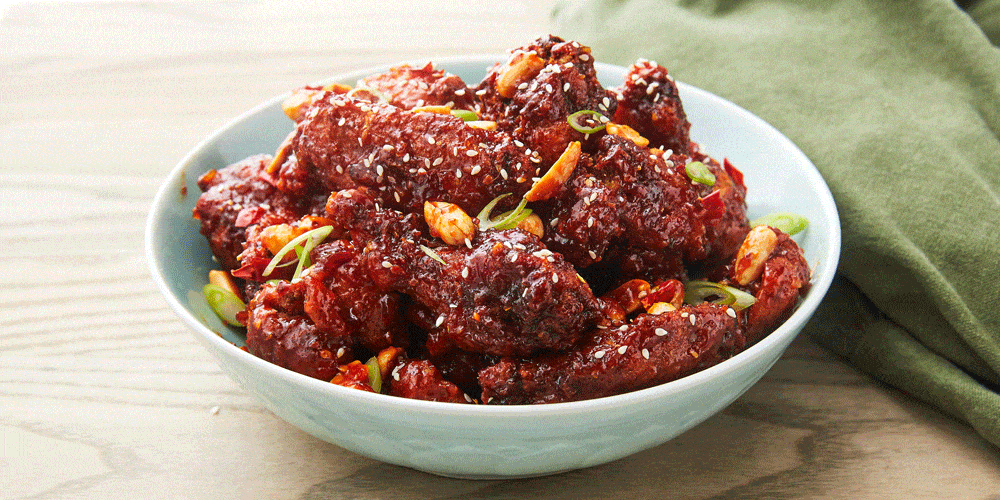 A Heartwarming Korean Style Fried Chicken Recipe With Personal Tweaks
I enjoyed this delicious dish with my friends, and because I love food, I want to share it with my lovely visitors who seek new amazing recipes just like this Korean style fried chicken recipe. Trying a new recipe from different countries is a fantastic way to experience their culture over time and feel their history. As we discussed above, the history of this Korean style fried chicken recipe was rich and full of suffering until it became a popular dish worldwide.

Finally, I hope you are going to love this dish the same as I did! Also, don't forget to share your experience, photos, and videos down below in the comment section.